Dental Implants in London
---
The best implant is the one placed perfectly!
There are about 150 different producers of dental implants. Luckily, most of them do their job well and the best ones create implants with the precision required like in airplane engine construction. Some implants are more durable than others over the years, the difference lies in their ability to sustain high bone coefficient. However, the success of the whole implant treatment depends not on an implant per se but on its perfect placement and fixing. In percentage terms, success consists of:

5% implant type
95% dental surgeon's skills and the quality of a finished tooth
Make sure you are in good hands! PMC Dental looks forward to seeing you.
Are you looking for dental implants? Do you need help? Can't decide what to do?


What is a Dental Implant?
An implant is a titanium screw that is surgically placed in the jaw to create a strong and solid foundation and hold a reconstructed tooth, a series of teeth (bridge) or the entire dental arch (all-on-4). It is ideal solution for people who have lost their tooth or teeth due to periodontal disease, injury, or other reasons.
It is worth knowing that the loss of even one tooth is of great importance for our entire biting system. Any lack of it requires the use of a restoration, as an empty gap left after the missing tooth will have serious adverse effect if not restored within a reasonable time.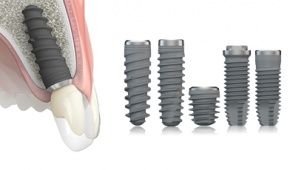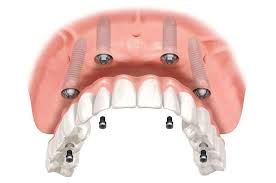 Human teeth form a unique and compact mechanism that the smallest gap in it, will cause the teeth to shift and slide out over time, as they will naturally seek possibility of direct contact with one another. Loss of one or more of your teeth has heavy impact not only of an aesthetic nature, but most importantly it has a heavy impact on the mental and physical side of a person.
Dental implants are so natural in appearance and functionality that a person may even forget that he has lost teeth. Due to the fact that the implants perfectly imitate natural teeth and are a stable support for prosthetic restorations (prostheses and bridges) they maintain a full function and aesthetics of lost teeth. As a result, not only health but also self-confidence and quality of life of the patient improve.
.