Invisalign®
---

Invisalign is a method of treating various, simple and complex malocclusion defects requiring teeth straightening. Regardless of the specific problem, the result of each treatment is a new, more beautiful smile that you will be happy to show to others. 
Invisible orthodontic treatment already available at PMC Dental
A smile can change everything
Your confidence. Your outlook. Your life. And with Invisalign, achieving the smile you always dreamed of doesn't have to be a big deal. In fact, it barely has to impact your day-to-day life at all.

Comfortable, clear and removable – Invisalign transforms your smile without disrupting your life. Something that over 3 million people worldwide have already discovered.
No matter what your problem is, the result is a new beautiful smile you will want everyone to see.
To gauge whether or not the Invisalign treatment fits your needs, a consultation with Aneta Pretorius (Grzesinska) DDS, our Invisalign-certified provider, is necessary.
Invisalign is a method of treating both minor and complex bite problems and involves straightening of the teeth.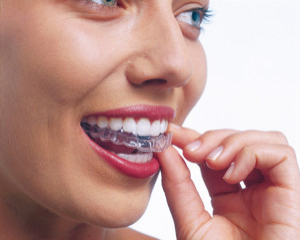 Invisalign straightens the teeth using a virtually invisible set of aligners (a set of clear plastic trays) which are created and customized specifically to your teeth to gradually and gently shift them into place. Treatment progresses by changing your aligners every1- 2 weeks until the desired final position has been achieved. The complexity of your bite issues determines the duration of the treatment, which averages 9 to 18 months and is comparable to traditional braces treatment time.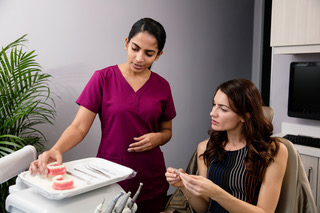 3D computer designed images of the proposed treatment plan, created before your treatment has started, allow you to see how your teeth are expected to look at the end of the treatment.

Aligners can be removed to maintain good oral hygiene (brushing and flossing) and to eat. There is no restriction as to food and drinks.

Unlike traditional teeth straightening treatments, aligners are bracket and wire free.
Invisalign is sold in over 45 countries worldwide, including the USA, Canada, China, Japan, various European countries and countries in the Asia Pacific region. It is also available via distribution in smaller developing countries of Europe, the Middle East, Africa and Latin America.

More comprehensive information on the Invisalign treatment can be obtained at the PMC Dental from Dr Aneta Grzesinska our Invisalign- certified doctor.
Invisalign price plan
Stage 1 - Consultation: FREE
Treatment Packages Price: 
Invisalign Go (20 aligners)
Invisalign Go+ (26 aligners)
Treatment Package includes FREE:
OPG x-ray before treatment
Control visits during treatment
Philips Zoom Teeth Whitening
Refinement aligners (if needed, and depending on package - can be limited)
Removable retainers
Fixed retainers (if applicable to case)
Stage 2 - NOTE: at this stage there is minimum £200 non-refundable deposit pre-treatment (simulation)
Stage 3 - Acceptance of simulation - Payment options:
All up front
Initial deposit plus £1000-£1500 (depending on invisalign package) when you decide on treatment, the rest flexibly divided between control visits
Stage 4 - Invisalign sessions and control visits per treatment plan
Retainers:
Removable Vivera retainers (as separate treatment option)
Upper and Lower:£395
Single arch:£245  
Fixed Retainers (as separate treatment option)
Upper and Lower : £395
Single Arch: £195