Panoramic X-Ray
---
ORTHOPHOS XG 3D-ready
New dimension dentistry
In PMC Dental we bring dental diagnostic X-ray imaging to a higher level with the use of ORTHOPHOS XG 3D-ready – the best and most popular advanced digital X-Ray imaging machine in the World! A panoramic radiograph, also called an OPG, is a result of panoramic scanning dental X-ray of the upper and lower jaw. This technology allows capturing patient's whole jaw in a single scan and shows the two-dimensional or three-dimensional (3D models) view of a half-circle from ear to ear. Best image quality, lowest dose of radiation and perfect workflow are one of the key advantages of this imaging technology. With Orthophos XG 3D-ready from Sirona (a Germany based World Leader in Dental Technologies) you will see more in dental diagnostics. Digital technology captured inside ORTHOPHOS XG 3D-ready extends dental diagnostic X-ray imaging potential in the fields of:
implantology
orthodontics
endodontics
prosthetics
oral and maxillofacial surgery
periodontology
paediatric dentistry
conservative dentistry
Advanced level of technology and visualization tools available in the software and hardware of Orthophos XG 3D-ready unit enable practitioners to:
reduce risk in different treatments
plan surgical interventions
coordinate planning treatment with colleagues
explain treatments to patients with greater clarity and accuracy
lower the exposure level making it available for children or even pregnant woman
individual adaptation of the imaging layer to the anatomy of the patient, i.e. bite, jaw, shape, etc.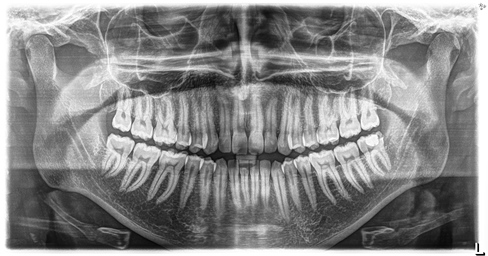 With Orthophos XG 3D-ready our dental practice offers:
Highest quality digital images
Fast data transfer
Quickshot for all panorama programs
Standard panorama with orthoradial beam direction- for the basic diagnosis
Standard panorama half-sides: left or right, upper or lower jaw
Panorama with constant magnification 1.25
All artifacts reduced with constant magnification - for patients with numerous fillings
Bite wing program for the anterior tooth region and left/right side
Lateral temporomandibular joint
Sinus programs
Temporomandibular joint programs
Thick slice in anterior tooth region
Multislice in posterior tooth region
PMC Dental in Ealing welcomes all patients requiring an OPG. Before booking an appointment with us please ensure that you have already a sufficient referral from your practitioner with the justification for exposure, otherwise please contact our surgery and ask for a referral form.